Auto Accidents and Speeding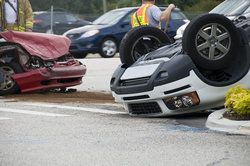 Speeding is one of the most dangerous of all traffic infractions, putting both the speeder's life and the lives of other motorists who share the road at serious risk. According to the Utah Department of Public Safety, in 2012 alone, 4,413 people were injured and 91 were killed on the state's roads due to speeding. Speed-related crashes were 3.2 times likelier to result in a fatality than other types of auto accidents. In a ten-year span covering 2003 to 2012, 1,010 lives have been lost in speeding accidents in Utah.
In communities throughout the state, including St. George, auto accidents caused by speeding are threatening the safety and lives of innocent people who follow the rules of the road. The personal injury attorneys of Younker Hyde Macfarlane, PLLC come to the aid of our state's victims of speed-related auto accidents, fighting on their behalf for the compensation to which they are entitled. If you or a member of your family has been injured in an auto accident caused by someone else's speeding, or if you have tragically lost someone you love in such an accident, our skilled and experienced auto accident attorneys can help.
Utah Speed Limit Laws
Utah is one of only two states to allow speed limits of up to 80 miles per hour. These speed limits occur on certain segments of rural interstates. Otherwise, the speed limit on rural interstates is 75 miles per hour. The speed limit on urban interstates is 65 miles per hour, while it is 75 miles per hour on other limited access roads.
According to the Utah Department of Public Safety, 48.9 percent of all speeding-related crashes in 2012 occurred on roads where the speed limit was between 60 miles per hour and 80 miles per hour. Many accidents (5,753) were actually caused by drivers who were driving too fast for the poor weather or road condition, even though they were technically driving under or at the speed limit. Under state law, operating a vehicle too fast for conditions is considered speeding, regardless of the posted speed limit.
The Utah Points System
Utah's Driver Improvement Program assigns point values to various types of traffic violations. Any driver that accumulates 200 or more points in three years can have his or her driver's license suspended for between three months and a year. For drivers who are under 21 years of age, 70 points or more in three years will result in a driver's license suspension of between one month and a year. The length of suspension depends on the severity of the violations on the person's driving record.
Points for speeding are assigned as follows:
1-10 miles per hour over the speed limit: 35 points
11-20 miles per hour over the speed limit: 55 points
21+ miles per hour over the speed limit: 75 points
If you or someone you love has been harmed in an accident caused by someone else driving too fast, we encourage you to contact Younker Hyde Macfarlane, PLLC, today for an evaluation of your case.
Related to This