Defective Airbags: Injuries and Litigation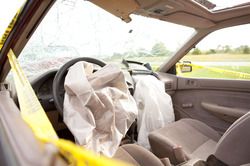 Fortunately, most auto accidents do not result in serious injury. Thanks to advances in technology and the modern safety features required of automobiles, motor vehicle deaths in the United States have been steadily declining over the past two decades. But what happens when technology fails? It's possible for motorists to suffer from serious injuries that could have otherwise been avoided by standard products such as functioning airbags. In fact, nearly all major car manufacturers have had to recall a defective airbag at least once.
When airbags do not function properly, people's safety and possibly their lives are at risk. If you or a loved one have been injured due to a defective airbag in the Ogden area, our auto accident attorneys can help you seek the compensation you deserve.
The Risk of Defective Airbags
The number of airbags per vehicle is at an all-time high, but so is the number of defects. In 2013, a record-breaking number of recalls were made for airbags, with manufacturers declaring over six millions airbags hazardous before October. Part of the reason for this rise in recalls is due to the increasingly complex technology used in their design. With every additional sensor and triggering mechanism, there is an additional factor that may result in malfunction.
Even when airbags deploy properly, the speed and angle of deployment are potentially risky factors as well. If an airbag inflates too slowly, it may not provide adequate protection from impact. If an airbag inflates too quickly or at the wrong angle, it may cause injuries that are equal to or greater than the crash itself. Injuries commonly associated with defective airbags include:
Head and neck trauma
Eye injuries
Broken jaw
Dislocated shoulders or arms
Rib fractures
Friction burns
Chemical burns
Respiratory problems
Types of Defective Airbags
There are multiples ways in which an airbag can fail to protect you from injury, or to cause injury from poor deployment. Examples of defective airbags include:
Failure to deploy: Even a crash at 25 mph can be serious when safety features fail. If airbags do not deploy under the conditions they are supposed to, drivers and passengers can suffer serious injuries from impact with the steering wheel, dashboard, or windshield.
Poor deployment rate: Airbags that inflate too slowly or too quickly can put motorists at risk.
Poor deployment path: Airbags should first deploy upward before extending horizontally, acting a stationary cushion rather than a projectile. Airbags that deploy horizontally at first may cause injury through impact.
Improper shape or size: Airbags should contain internal tethers that keep the surface flat and from extending too far outward. Broken or missing tethers may cause an airbag to inflate too far, hitting a motorist at a speed of 200 mph.
Inadvertent deployment: Malfunctioning sensors may result in the inappropriate deployment of an airbag, causing unnecessary injury.
Compensation for Defective Airbags
Through the help of experienced personal injury attorneys, you can seek fair compensation for the damages caused by a defective airbag. By investigating the nature of your airbag's deployment (or lack thereof), the reason for its malfunction, and the injuries caused, we can build a solid case to determine legal liability.
Our clients can often gain compensation for immediate and ongoing medical bills, missed wages from work, expenses for future medication or therapy, and emotional distress. Furthermore, if we believe the compensatory amount is inadequate for the injury caused, or injuries that others may have received from a similar problem, punitive damages may be sought against the liable party.
Contact Our Ogden Office
Product liability can be a serious problem, especially when it involves your safety in an auto accident. For more information on how we can help you achieve compensation for your injuries, contact our office to speak with one of our legal professionals.
Related to This