The Importance of Motorcycle Helmets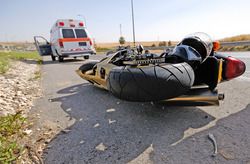 We at Younker Hyde Macfarlane, PLLC take all auto accident cases very seriously, especially those that involve motorcycles. Since riders and passengers on motorcycles are especially vulnerable to serious injuries, our motorcycle accident attorneys fight diligently to ensure that they receive just compensation following serious collisions. We have helped countless clients in the Salt Lake City area and throughout the state with their cases, and we will make sure to carefully consider your case and legal options should you come to us.
Many people wonder about helmet use and helmet laws in the state of Utah. We want to cover these matters right now, but we would like to stress the following upfront: regardless whether the law applies to you or not, a helmet can save your life--be sure to wear one.
The State of Utah's Motorcycle Helmet Laws
According to Utah Code, Title 41, Chapter 6a, Section 1505, people on a motorcycle who are 17 and younger are required to wear a motorcycle helmet. The legal requirement does not extend to those 18 and older.
It's recommended that anyone who is on a motorcycle wear a helmet regardless of their age, however, since they are a crucial bit off safety gear that can make a major difference. Wearing a helmet will not impair your vision or cause you to experience neck injuries as some people claim. It's just common sense to have a helmet on if you are on a motorcycle.
Protection from Major Head Trauma and Brain Injuries
When you have a helmet on, you protect yourself from major head trauma, potentially avoiding major brain injury and serious lacerations and fractures to the skull. While there is no such thing as a helmet that is totally concussion proof, it is protective nonetheless and can prevent injuries to the brain.
Motorcycle Helmets Save Lives
In addition to preventing injuries, motorcycle helmets save lives. The National Highway Traffic Safety Administration (NHTSA) has found that helmets are 37 percent effective in preventing fatal injuries for the drivers of motorcycles and 41 percent effective in preventing fatal injuries for the passengers of motorcycles. Given these numbers, it's not surprising that other states have mandatory helmet laws for motorcyclists of all ages.
Other Safety Gear to Consider for Motorcyclists
In addition to having a helmet, it's important for you to consider the following safety gear as well:
Boots - Sturdy boots can protect your ankles and feet from major injuries, so don't take them for granted
Jackets - Whether you wear a leather jacket or a sturdy textile jacket, this is crucial for protecting yourself from some nasty road rash and major cuts and scrapes
Gloves - Gloves can mean the difference between being okay and suffering bad road rash and lacerations on the hands and wrists
If you need help picking up protective gear for your motorcycle, you should consult with retailers of motorcycle wear in your area. They will be able to make recommendations that will improve your safety and will look stylish as well.
Helping Accident Victims and Their Loved Ones In Their Time of Need
Even though helmets protect you from injury and can save your life, you can still suffer severe harm in a major auto accident or collision. Our lawyers will be strong advocates for you and your loved ones, seeking just compensation for injuries sustained as well as any material or financial losses you have experienced as a result of the accident. We will be here for you.
Learn More About Your Legal Options
If you or someone that you love has been involved in a motorcycle accident, be sure to contact our personal injury lawyers today. Our team of attorneys looks forward to meeting you in person and helping you achieve excellent results as you seek just compensation against negligent parties.
Related to This